Manchester United worried by Wayne Rooney injury after draw at Bolton
• Ankle problem is a concern, admits assistant Mike Phelan
• Giggs and Ferdinand also doubts for trip to Valencia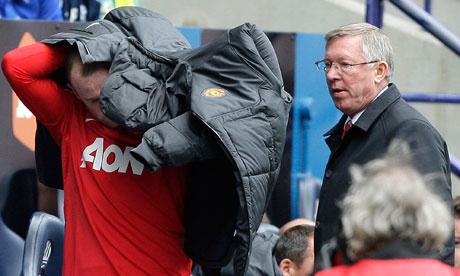 Manchester United's Wayne Rooney, left, is watched by his manager Sir Alex Ferguson after being substituted during the draw at Bolton. Photograph: Jon Super/AP
Manchester United
's match against
Valencia
at the Mestalla on Wednesday looks to have turned into an even more severe test after yesterday's 2-2 draw with
Bolton Wanderers
todaywas accompanied by a number of injury concerns for
Sir Alex Ferguson
.
Ryan Giggs strained a hamstringat the Reebok Stadium that will rule him out for a fortnight. Rio Ferdinand, who was not involved in the match, may well return but there is no certainty over a centre-half with back-related problems whose appearances are now intermittent and
Wayne Rooney
is also a worry. The injury that saw him replaced at Bolton was more than a random knock, even though the attacker is expected to face Valencia.
"He has a little issue with his ankle," said United's assistant manager, Mike Phelan, who said it would be examined tomorrow morning. "He has been playing with it for a couple of weeks now and we decided he wasn't getting into the areas we wanted and he wasn't getting chances, so we had to change it."
A point against Bolton was satisfactory since United were twice behind and by drawing had a better weekend than the other Champions League representatives, Chelsea, Arsenal and Spurs, who were all defeated. However, it is Ferguson's men who are under the greater stress on the European front after the 0-0 draw with Rangers in their opening game.
Ferguson did, however, see some encouraging signs at the Reebok. "In the first half we should have done better but we did well to come from behind," he said. "The second half was very even. Bolton were a real handful and our chances were reduced but we must take credit for coming back again."
The second of United's levellers was expertly taken by the substitute Michael Owen for his first league goal of the season. It brings him more strongly into contention to be in the starting line-up against Valencia but his satisfaction after the Bolton game was qualified.
He claimed his goal was "tinged with a bit of disappointment" and rued the fact that United had only partly exploited their opportunity. "We were helped with a few nice results [on Saturday]," said Owen, "but when you don't capitalise fully it is disappointing."
Underachievement by United is partly linked to Rooney's subdued form, although sympathy for him is diminishing. As Kevin Keegan – one of the match analysts at the Reebok – remarked, a person who reportedly sold his wedding photographs to the press cannot complain too much if newspapers then carry other pictures that are not to Rooney's liking.
United have more orthodox concerns. It is irksome for the club, too, that they have drawn all three away
Premier League
matches to date, even if they had no lead to let slip at the Reebok. Such difficulties for a leading club are, however, heartening for the Bolton manager,
Owen Coyle
.
"I certainly wasn't surprised that West Ham could win at home [against Tottenham] and I wasn't surprised we could achieve a result," he said. "The margins for error in the Premier League are minimal. It's probably been great for the league this week that a lot of teams have believed they could win against the elite clubs. That's the way it should be."
Coyle was particularly pleased by Martin Petrov's display and goal and was also philosophical about Johan Elmander's failure to put Bolton 3-1 ahead. "That chance would have never have come had he not driven 40 or 50 yards and beaten three or four men," said Coyle.
There was even sympathy for Rooney from Coyle. "I think maybe it's time to lay off him and let him play his football if you want the best for your country."